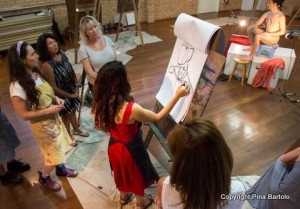 I think we are all born with a lot of creative energy and curiosity. I have utmost respect for all creative expression, professional and amateur and I love working with people in this environment.
Teaching a diverse group of people with different skill levels and motivation requires a diverse and flexible teaching approach. I have often described my teaching style as being like a 'smorgasbord' in that I provide a broad range of ideas and technical approaches from which students can select and respond to those elements that suit their 'creative tastes' and personal motivations.
My aim is to create an environment where students can feel comfortable to explore their creative potential whilst also providing thorough explanations on visual analytical techniques and systems. These include perspective, the science of light on form, how to create tonal modelling for 3d effects, the use of geometric equivalents, anatomy, proportion, stylistic devices, analysis of contemporary artistic practise, the use and application of various media for drawing, mixed media and painting.
I specialise in Life drawing , portrait, genre and acrylic painting.
I have expertise in adult education, HSC and International Baccalaureate and private tuition.